Selin Kurnaz Will Be A Panelist at the SCRS Oncology Site Solutions Summit
2023.04.04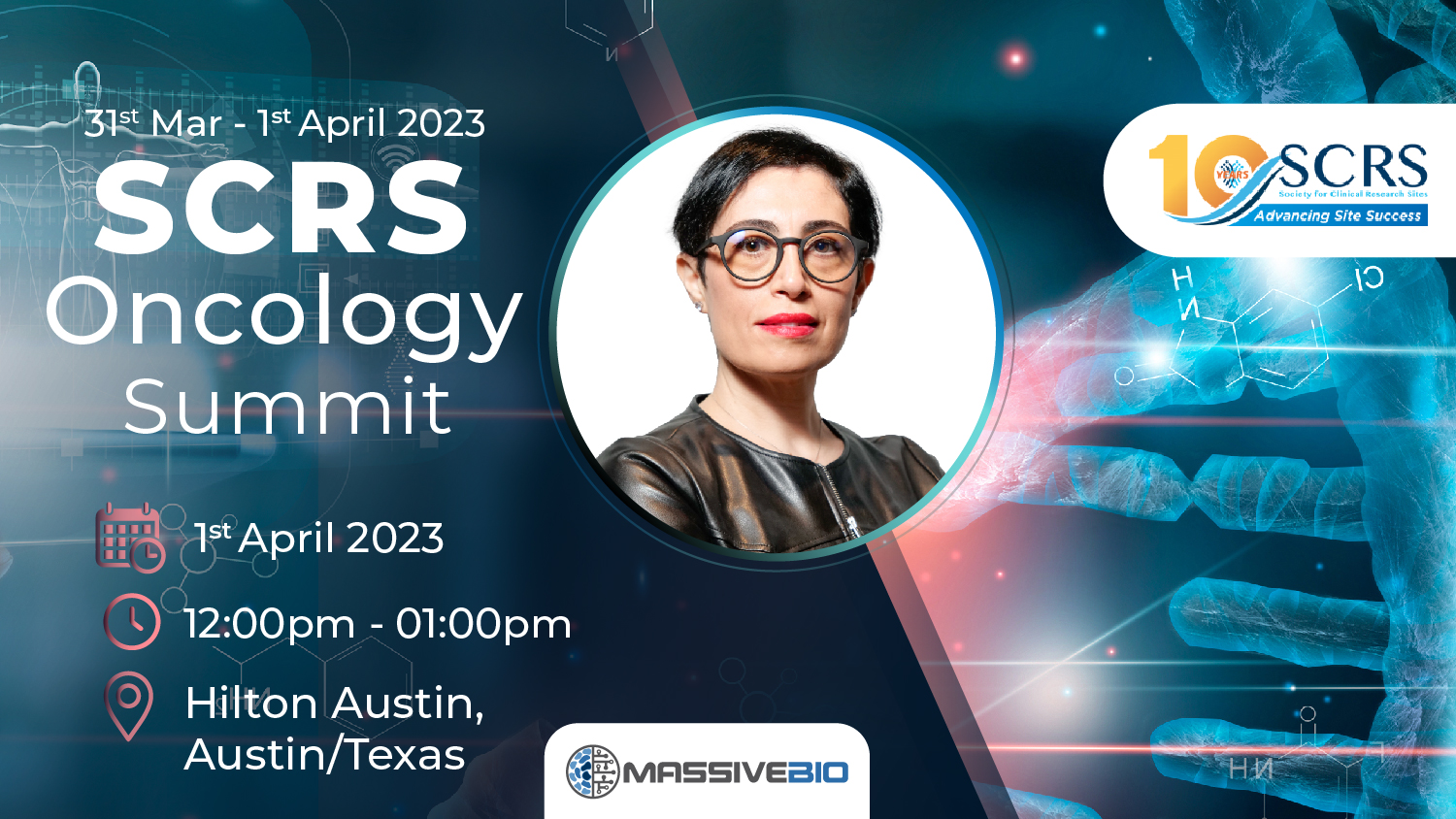 Massive Bio Co-Founder and CEO Selin Kurnaz will be a panelist at the SCRS Oncology Site Solutions Summit, which will take place in Austin, Texas, from March 31 to April 1.
The Society for Clinical Research Sites (SCRS) Oncology Site Solutions Summit brings together sponsors, CROs, and solution providers who want to learn, communicate, and collaborate in ways that take cancer research to new levels. Each year, the SCRS summit creates a forum for oncology clinical research stakeholders to discuss site sustainability and how to improve patient access to oncology trials. The summit, which will take place at the Hilton Austin in Austin, Texas, from March 31 to April 1, will bring together many respected leaders in oncology research.
Selin Kurnaz, PhD, co-founder and CEO of Massive Bio, will be among the summit's panelists this year. Kurnaz will take part in a breakout session titled "How to Reduce Patient Burden in an Age of Complexity," which will address the challenges that patients face in participating in clinical trials, and what sponsors and CROs can do to ease those burdens and retain patients. This is a topic of profound importance and significance to Kurnaz, whose long-term vision for Massive Bio is what she thinks of as the "Amazon-ization" of the patient journey. "Our ultimate goal at Massive Bio is to empower patients to use data and technology in order to get the maximum benefit from the healthcare system in the comfort of their own homes, anywhere in the world and regardless of their financial circumstances, until the time comes when it's absolutely necessary to visit a healthcare facility," says Kurnaz.
Massive Bio eases the burden of cancer patients who are seeking novel treatments in clinical trials with its artificial intelligence-powered platform, SYNERGY-AI, and concierge services. SYNERGY-AI screens more than 14,000 clinical trials to match a patient's unique medical profile to suitable trials of new oncology therapies in seconds, compared to days and even weeks this process can take with traditional methods. Then, Massive Bio's dedicated team of nurse oncologists and patient advocates guides patients on their journey, assisting with logistical issues such as scheduling and insurance verification, all while offering vital emotional support every step of the way. With advanced technology powered by over 170 algorithms, as well as the human touch, Massive Bio offers a one-of-a-kind, personalized, seamless, and evidence-based service to cancer patients.